Little by little I am starting to get a sense of where this treatment plan is going. Baby steps.
I saw my oncologist, Dr. Robison, early this morning before chemo. I had approached this check-up with no expectations. Quite frankly I just assumed it would be a quickie visit: Listen to lungs, feel my belly, take notes on the extent of the side effects, girl talk for a bit, then send me on my way. I was partly right but we did have a productive conversation about future treatment.
In more recent previous posts I had talked a little bit about the frustration I was feeling over not feeling like I was progressing. There is no finish line, no end date, no goal to strive for other than keeping my chin up and staying the course. After my visit with Dr. Robison I left feeling relieved and at ease with what may come even though it is still very uncertain.
I am generally a planner. I like to have an idea of what is to come. With that in mind, I am also fairly adaptable and as long as some sort of plan is in place I can roll with that plan being altered. Bottom line, I do not want to feel stuck or stagnant.
We spoke openly about what tricks she may have up her sleeve for me in the event that the Taxol/Avastin combination is no longer best the course of treatment. In a nutshell this is a tentative plan of attack:
Scenario #1: We take a CA-125 bloodtest next week and the results show a decrease
Stay the course with Taxol/Avastin.
Scenario #2: We take a CA-125 blood test next week and the results are unchanged/slightly increase (ex: by 20 or so)
Still stable, stay the course with Taxol/Avastin.
Scenario #3: We take a CA-125 blood test next week and the results increase by about 50 or more –> Conduct a CT scan to get a visual on what is actually happening. Is the disease unchanged or progressive?
If we do a CT scan and the imaging shows that the tumors are unchanged and there is no new progressive disease we would be inclined to still stay the course with Taxol/Avastin as stable (no new growth = good)
If we do a CT scan and the imaging shows progressive disease (new tumors/growth) we may move to a different type of chemotherapy called Doxil.
So what is Doxil you ask?
Doxil is a platinum based chemotherapy called an anthracycline used commonly in recurring low grade ovarian cancer. The American Cancer Society was kind enough to explain this online in plain English for me. This just means that the drug targets enzymes involved in the replication of DNA. Its job is to destroy the cancer cells formed by the botched DNA. Like Taxol, it is not exactly a targeted therapy so it can also destroy normal tissue. One of the benefits of this drug is that it stays in your system a little longer because it is designed to go almost undetected by the immune system. This allows the drug more time to do its job. Or so I read…I am no means an expert on this drug aside from a basic google search.
Based on what I have been told by Dr. Robison and Rosa, my nurse, Doxil is also pretty tolerable. The most common side effects are skin rash (tinging/burning/flaking of the skin on palms of hands and bottoms of feet) and mouth sores. These side effects worry me because I have had variations of both in the past and it is not pleasant. BUT there are always risks with any medication.
IF we decided that a switch to Doxil would be the next step, and it may not need to be, the infusions would only last about an hour once per month. The only other downside is that I would need to be the most patient patient. I was told that they do not typically see any immediate impact on the tumor marker for the first few cycles. It would be another exercise in trust.
The other option that I inquired about is immunotherapy since it is being discussed at length in health media as of late. There is an immunotherapy trial going on at WIH currently but Dr. Robison did not feel that this particular trial is my best next step just yet. She is not ruling it out for the future if it is appropriate for my circumstances down the line.
A lot of information to take in, right? Remember, the plan may not even change! I am just relieved to know what my options are and how I can mentally/physically prepare for what is to come. I really appreciate that my doctor is always one step ahead of me, keeps me informed, doesn't dismiss my concerns, and is honest with me. That is so important in a doctor/patient relationship.
After the appointment I headed over to the infusion center to see my girl Rosa for Taxol. One of my cancer crushing buddies was kind enough to come by with a HALF DOZEN Allie's Donuts. If you are from the Rhode Island area- you know what I'm talking about. It's sugar crack amazing heaven in a box.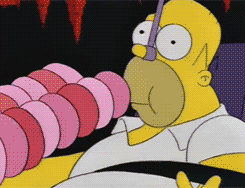 Thank you for the visit and treats Jocelyne!
All in all I am feeling ready to move forward no matter what is to come. I find comfort in knowing I have options. Stay tuned for my create your own cancer adventure as we will know more next week.